Many historical buildings and properties within the UK have been lovingly restored, and they are truly a remarkable sight. No one can deny that these period properties have an innate and timeless appeal. The good news is that restoring them to their former glory is easier nowadays – thanks to advancements in the restoration process and the materials used. If you plan to restore one particular element – the windows – you're in luck because many metal window restoration specialists will know just what to do to restore them properly and correctly. And specific issues are more common than most, which means they can be easily addressed. So what are the common problems you must watch out for when restoring metal windows? Let's find out.
The most common kinds of window deterioration
Corrosion
Corrosion or rust is the most common issue faced by metal windows, and it often causes failing, jammed, or warped frames. The first sign of corrosion is a loss of paint, and when it comes to heavier or more obvious signs of corrosion, this is often exhibited by pitting and a raised finish. Another sign of heavy corrosion would often be the warping and bowing of the sash or frame. But the worst-case scenario is when a portion or section of the frame is missing or there is delamination.
Loss of paint
On the other hand, the loss of paint is not a cause for alarm – in fact, it is considered a minor issue, and the window does not have to be removed – in other words, it can be done on-site. You can also benefit from micro-abrasive scrubbing or cleaning to remove the paint safely (it is more common if the surrounding areas or surfaces need to be protected, as confirmed by metal window restoration experts). But there are more aggressive means of removal, such as chemical stripping or the use of a power tool grinder – however, it is best if these are performed by a professional. The reason for this is safety, as dealing with chemicals may be hazardous, and there are a host of issues to worry about, such as the kind of chemical used as well as voids where the chemical can easily hide. The surrounding materials can also be affected if not done by an expert. Finally, once they have cleaned it down to the core metal, the substrate needs to be primed, as oxidation can happen within a few hours.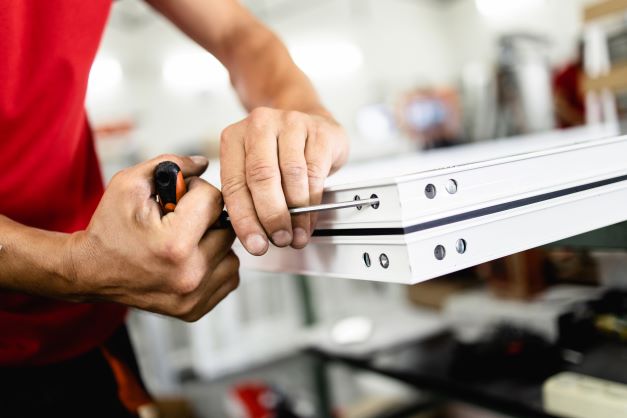 Bowed or warped window frames
When dealing with bowed or warped window frames, they can be straightened out on site or in the shop using heat and vices, clamps, or another type of tension device. Because there is something referred to as 'steel memory,' straightening it may often require the over-correction of the warp or bow, so when the metal relaxes and cools, it will end up in a straight form.
You can also choose to retrofit your windows to ensure that they have improved thermal efficiency, and you can ask the expert to use several interventions